About Kotem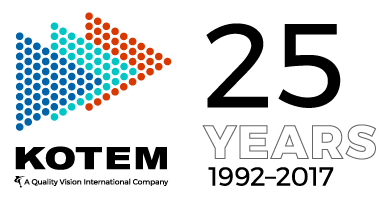 For over 25 years, the engineers at KOTEM® have made the science of Geometric Dimensioning and Tolerancing their passion and life's work. Today, GD&T has become the worldwide standard for design dimensioning, and its correct application enables precision manufacturers to reduce costs and improve quality day in and day out.
In today's increasingly complex global manufacturing environment, GD&T is the universal language of precision manufacturing. Common understanding of dimensions and tolerances enables suppliers and customers around the world to do business efficiently. KOTEM dimensional analysis software is an essential tool that leverages the power of GD&T. KOTEM's EVOLVE software enables manufacturers to shorten new product development time by quickly integrating dimensional measurement feedback into the design and manufacturing workflow.
As contributing members of ISO and ASME Standards Committees, you can trust the KOTEM team to be reliable experts in tolerance evaluation for even the most complex applications.
KOTEM is a leading supplier of advanced software for evaluation and fitting of measurement data, functional GD&T evaluation and 3D best fitting solutions. Kotem products are used by a wide range of manufacturers to design, produce and inspect precision components.
Kotem's headquarters is located in Budapest, Hungary. Founded in 1992, Kotem's staff have become the world's leading experts in GD&T evaluation, best fitting and assembly analysis. In addition to developing popular software tools for precision manufacturing, Kotem staff serve as members of the ISO/TC213 GPS and ASME B89.7 committees which establish worldwide standards for dimensioning and tolerancing.
Kotem software is sold and supported by a worldwide network of industrial measurement professionals with the tools and experience to help you improve your manufacturing processes today.
Kotem is a division of Quality Vision International, the world's largest vision metrology company. To learn more about QVI technologies and measurement products, visit our website at www.qvii.com.
Quality Vision International – Precision for People.